Local and national news relevant to our long-term care community.
December 15, 2022
After-Hours Holiday Coverage
Review the after-hours coverage during this upcoming holiday season to keep your facility staff up-to-date on who to contact - the after-hours physician or the MRP.
View the holiday coverage here.
---
December 7, 2022
Long-term Care: The Heights at Mt. View 
The Heights at Mt. View is actively seeking a dedicated, hard-working physician interested in working in a collaborative interdisciplinary team. Physicians currently practicing as FPs, ERPs or Hospitalists able to attend on a weekly basis are welcome to apply.
Key Points:
The Heights at Mt. View (THMV), a 260 bed Island Health-affiliated LTC home located in Saanich, has a TORCH medical practice model with 8 dedicated MRPs attending weekly and providing cross-coverage. Remuneration is fee-for-service plus the LTCI per resident stipend of $225/resident/year, with additional remuneration for call group participation. After-hours, weekend, and stat coverage is provided by a dedicated LTC call group that the successful person is welcome to join.
Requirements of the site: 
The site has a TORCH medical practice model in place, whereby each family physician accepts MRP status for 15-30 residents and agrees to:
Attend the home once per week, during a morning or afternoon timeslot, at a complementary time to other MRPs, aiming for full coverage Mon-Fri
Participate in resident care conferences and medication reviews
Participate in daytime cross-coverage, responding to urgent requests for all residents when on site
Document in THMV's electronic health record (Point Click Care)
Collaborate with THMV TORCH colleagues to ensure coverage for absences
Attend periodic THMV TORCH team meetings
Resources available to LTCI Physicians:
Annual stipend
After-hours coverage provided by a dedicated call group
Assistance, tools, and resources
Peer mentorship program
LTCI Clinical Learning Series
LTCI Scholarship Fund
Parking passes
Fax-to-email service
Billing optimization support
To learn more, please contact victoriasouthisland.ltci@victoriadivision.ca or call (778) 265-3137. Not sure if long-term care is for you? Contact us to set up a remunerated LTC shadowing session!
---
December 7, 2022
Interested in a brief history of the LTCI program? View the presentation slides below:
Vic-SI LTCI - History for the LTCI
---
November 29, 2022
the LTCI held a Leadership Event on October 27, 2022. Please review our one-pager which explains the goals of this event as well as the feedback that the LTCI received from LTC physicians and facility leaders.
View the one pager here.
---
September 26, 2022
Memorandum: Changes to Pre-operative Health History and Physician Exam can be read here.
There have also been changes to Pre-operative Procedures Consult Notes. Review a sample surgical consult note here.
---
July 26, 2022
Long-Term Care MRP - EOI
Do you enjoy working in team-based environments? The Victoria and South Island Long-term Care Initiative (LTCI) is seeking family physicians interested in working in collaborative practice models to provide medical care to residents in our region's 37 long-term care homes. LTCI supports its physician members by providing services and resources to enhance and streamline long-term care practice:
Annual stipend – receive quarterly payments to meet our 6 Best Practice Expectations.
After-hours coverage - for all residents in long-term care.
Assistance, tools, and resources - to focus your long-term care practice with LTCI program team support.
LTCI Clinical Learning Series - provides opportunities for ongoing education.
LTCI Scholarship Fund - annual funding for CME accredited conferences.
Parking passes - for Island Health sites, and assured parking at other long-term care sites.
Fax-to-email services - for timely communications.
Billing optimization support - through the LTCI billing guide and access to our billing consultant. 
Key Points:
Current opening at The Priory Long-Term Care Home (Hiscock and Heritage Woods) in Colwood.
Available panel size of 20-30 residents with a CORE practice model.
Island Health owned and operated location.
Start date of approximately October 2022
Room for growth-additional established resident panels available at sites across the region.
CORE, TORCH, and informally organized care homes.
Flexible arrangements to accommodate existing commitments.
What we are looking for:
Dedicated, hard-working and collaborative physicians.
Ability to work as a team with Nursing, Nurse Practitioners, and Allied Health Professionals.
Open to physicians currently practicing as FPs, ERPs or Hospitalists.
Ideal for a new grad or a family physician nearing retirement and looking to scale back their practice.
Browse this job posting on the Victoria Division of Family Practice page here.
To set up an initial call with a coordinator to learn more please contact  victoriasouthisland.ltci@victoriadivision.ca
---
May 26, 2022
Long-Term Care Newsletter from Island Health
View it here.
---
March 11, 2022
Prescribing Covid-19 Therapeutics for LTC
---
February 16, 2022
Covid-19 Therapeutics memo shared on behalf of Dr. Margaret Manville
---
February 11, 2022
LTCI funding is available for a limited time
---
January 17, 2021
Module for Covid-19 Long-Term Care Treatment
---
December 20, 2021
Memo from LTCI Co-Chairs Dr. Margaret Manville & Dr. Mike Miles regarding After-Hours Call coverage for residents in Long-Term Care sent out on November 26, 2021.
---
November 5, 2021
Memo from Dr. Margaret Manville to Long-Term Care Physicians regarding in-person visits and the Pronouncement of Death in LTC Recommendations & MRP Notification of Death From. Please find the links below for more information
---
September 20, 2021
Letter from Dr. Margaret Manville to Long-Term Care Physicians:
Dear Colleagues,
Thank you again for all of your hard work and dedication to LTC during this pandemic. Despite our very high vaccination rates in LTC residents and the requirement for staff to be masked and fully vaccinated by early October, there are increasing cases of COVID in staff and residents. This is a reflection of COVID transmission in the community.
Outbreaks are declared when there is evidence of sustained transmission. Enhanced surveillance is the process followed when there is no evidence of sustained transmission of the virus in the nursing home. Under both situations, infection prevention and control protocols are instituted and managed accordingly.
I would like to remind you to have a very low threshold for testing for COVID-19. Many residents have very mild symptoms, or simply have a 'change in condition.' The delta variant can spread quickly among residents if not detected, as we have seen in outbreaks on the Island and throughout the province. We have a challenging population in which to detect a 'new' illness, given their co-morbidities and cognitive impairment. Please consider testing even palliative residents, who may seem unlikely to have contracted COVID, as sometimes these cases have led to the recognition of undetected transmission in our LTC homes.
If you see staff unmasked, remind them of the mask requirement, and please let management know.
I am anticipating more COVID outbreaks in our communities this Fall, and our continued vigilance can help decrease the devastating effects in our nursing homes.
Warmly,
Margaret
Dr. Margaret Manville, FCFP, Care of the Elderly
Medical Director, Long Term Care, Island Health
Clinical Associate Professor, UBC Faculty of Medicine, Department of Family Practice
Site Director, Clinical Experiences: Family Practice, Island Medical Program
---
September 8, 2021
COVID-19 updates regarding in-person visits
Read about it here.
Questions and Answers for physicians regarding their patients and in-person visits can be found here.
---
May 14, 2021
COVID-19 Response Protocol for Long-Term Care Updated
To read more about this click here.
---
April 21, 2021
Memorandum: Eye/Facial Protection in Long-term Care and Assisted Living from Island Health
To read more about this, click here.
---
March 26, 2021
The Government of BC has announced that there will be changes regarding long-term care visitation.
To read more about this, click here.
---
January 22, 2021
---
January 20, 2021
BC CDC COVID Vaccine Resource for Health Care Professionals
An overview of the provincial program and answers many commonly asked questions about the COVID vaccine.
---
January 15, 2021
Island Health continues to move forward with our COVID-19 vaccination program, offering vaccination appointments to the priority groups identified in the B.C. government's vaccine distribution strategy.
Many medical staff who work in hospital and urgent care settings have received the COVID-19 vaccination memo and survey link. If an eligible medical staff member has not yet received the email please share that memo. Do not share memo and link with anyone other than your eligible medical staff. If you are unsure about their eligibility, please send a message to pandemic@viha.ca.
The scheduling process is underway and eligible medical staff will be contacted in the coming days.
Message from Dr. Stanwick re: second doses
---
January 13, 2021
In two videos by Island Health, LTC physicians Drs Katharine McKeen and Peter Neweduk explain why getting vaccinated in LTC matters, and why everyone who's eligible should get the vaccine as soon as possible and support others to receive it.
---
January 7, 2021
Weekly COVID-19 Outbreak Report for Long-Term Care, Assisted Living & Independent Living Facilities
ltc-al-covid-19-outbreak-report-0106-2021
---
December 31, 2020
Memo from Dr. Manville, Medical Director Long-term Care, regarding orders for LTC resident vaccinations.
---
December 21, 2020
Memo from Dr. Margaret Manville, Medical Director Long-term Care, Regarding Island Health LTC Physician COVID-19 Outbreak Response Principles and Guidelines
---
December 17, 2020
LTCI 2020 Evaluation on the COVID Response
The results are in for our 2020 LTCI COVID-19 Response Evaluation! This year we focused on activities undertaken by the LTCI to support LTC physicians and care homes to maintain best-practice expectations and system-level outcomes during the COVID-19 pandemic. A big thank you to all who participated by sharing your feedback and ideas. See our two page summary report:  Vic-SI LTCI - COVID Evaluation Summary Two Pager FINAL.
---
December 7th 2020
LTC outbreak guidelines for medical coordinators
---
October 28th 2020
Island Health Long-term Care Communication Bulletin | Fall 2020
---
August 14th 2020
Register now! COVID-19 Through a Quality Lens: Critical Care – Emerging Networks and Tools to Improve Care
Monday, August 17, 2020 • 1400 - 1500 PDT.  Follow the link here to find out more.

---
August 13 2020
To support the LTC sector, the Canadian Foundation for Healthcare Improvement and the Canadian Patient Safety Institute invite teams delivering healthcare for older adults in congregate settings to join a new program, LTC+: Acting on Pandemic Learning Together.
This program is based on findings captured in a recent report, Reimagining Care for Older Adults: Next Steps in COVID-19 Response in Long-Term Care and Retirement Homes, which was developed from more than 40 interviews with family partners in care, healthcare leaders and policy makers. It focuses on promising practices in six key areas that have the potential to help organizations prepare for future COVID-19 outbreaks, or mitigate their effects.
Apply now here
---
July 3rd 2020
The Ministry of Health mandates all staff working in Long-term Care & Assisted Living (including physicians) must self-assess, track temperature, self-isolate and test if you have symptoms.
More here: COVID19_StaffScreening_June2020
---
July 1st 2020
Updated visitor restrictions for LTC and Assisted Living allow residents to see visitors, one person at a time
---
June 10th 2020
Annebeth, one of our Long-term Care Initiative coordinators, just delivered brand new iPads to Administrator Walter Greaser at The Heights at Mt View. Thanks to the iPads and the great support of nursing staff, residents and their doctors can now "see" each other when a virtual visit is required. The Long-term Care Initiative purchased iPads for several homes in Greater Victoria who expressed interest as part of their COVID-19 outreach response.
#VirtualCARE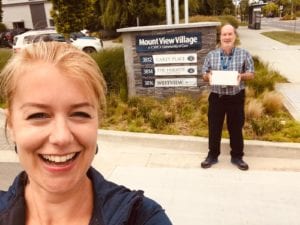 ---
May 26th 2020
2020 05 26 LTC Communication Bulletins re COVID 19 #10- FAQ's
---
May 19th 2020
2020 05 19 LTC Communication Bulletins re COVID 19 #9
---
April 6th 2020
2020 04 06 LTC Communication Bulletins re COVID 19 #6 
---
April 3rd 2020
LTC communication bulletin COVID-19 #5
---
March 23rd 2020
LTC communication bulletin COVID-19 #3
---
March 19th 2020
2020 03 18 LTC Communication Bulletins re COVID 19 #2
---
March 18th 2020
VIHA visitor/staff screening tool for Long-term Care Sites:
---
March 17th 2020
Infection Prevention and Control for Novel Coronavirus (COVID 19): Interim guidance for Long term Care and Assisted Living Facilities
---
March 16th 2020 - Recommendations from LTC Medical Advisory Committee: COVID-19 #1
LTC communication bulletin COVID-19 #1
---
February 26th 2020 - Evaluation 2018/2019
The Victoria-South Island Long-term Care Initiative (LTCI) program undertakes a yearly evaluation on a three year cycle of community-level measures, care home-level measures, and provider-level measures. For the 2018/2019 evaluation, the team did a deep dive into care conference (CC) attendance. As one of the Best Practice Expectations (BPE's) we believe that CC's are both central and pivotal to successfully meeting the overall goals of the LTCI. Overall, 60% of all scheduled CC's during the audit period were attended by MRPs, a relative increase of 300% since year zero of the LTCI 2014/2015.
Individual reports relating to CC attendance have been delivered to all Long-term Care (LTC) Homes and LTC physicians. These reports aim to provide a snapshot in time and inform actions of the LTCI to address structural barriers of CC attendance.
Interested in learning more about our 2018/2019 Evaluation? Follow the link below to read our summary and aggregate reports.
2018/2019 LTCI Evaluation Summary Report