October 28th 2020
Island Health Long-term Care Communication Bulletin | Fall 2020
---
August 14th 2020
Register now! COVID-19 Through a Quality Lens: Critical Care – Emerging Networks and Tools to Improve Care
Monday, August 17, 2020 • 1400 - 1500 PDT.  Follow the link here to find out more.

---
August 13 2020
To support the LTC sector, the Canadian Foundation for Healthcare Improvement and the Canadian Patient Safety Institute invite teams delivering healthcare for older adults in congregate settings to join a new program, LTC+: Acting on Pandemic Learning Together.
This program is based on findings captured in a recent report, Reimagining Care for Older Adults: Next Steps in COVID-19 Response in Long-Term Care and Retirement Homes, which was developed from more than 40 interviews with family partners in care, healthcare leaders and policy makers. It focuses on promising practices in six key areas that have the potential to help organizations prepare for future COVID-19 outbreaks, or mitigate their effects.
Apply now here
---
July 3rd 2020
The Ministry of Health mandates all staff working in Long-term Care & Assisted Living (including physicians) must self-assess, track temperature, self-isolate and test if you have symptoms.
More here: COVID19_StaffScreening_June2020
---
July 1st 2020
Updated visitor restrictions for LTC and Assisted Living allow residents to see visitors, one person at a time
---
June 10th 2020
Annebeth, one of our Long-term Care Initiative coordinators, just delivered brand new iPads to Administrator Walter Greaser at The Heights at Mt View. Thanks to the iPads and the great support of nursing staff, residents and their doctors can now "see" each other when a virtual visit is required. The Long-term Care Initiative purchased iPads for several homes in Greater Victoria who expressed interest as part of their COVID-19 outreach response.
#VirtualCARE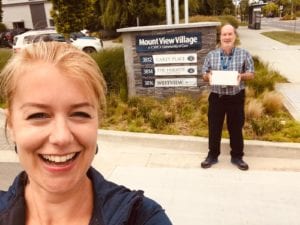 ---
May 26th 2020
2020 05 26 LTC Communication Bulletins re COVID 19 #10- FAQ's
---
May 19th 2020
2020 05 19 LTC Communication Bulletins re COVID 19 #9
---
April 6th 2020
2020 04 06 LTC Communication Bulletins re COVID 19 #6 
---
April 3rd 2020
LTC communication bulletin COVID-19 #5
---
March 23rd 2020
LTC communication bulletin COVID-19 #3
---
March 19th 2020
2020 03 18 LTC Communication Bulletins re COVID 19 #2
---
March 18th 2020
VIHA visitor/staff screening tool for Long-term Care Sites:
---
March 17th 2020
Infection Prevention and Control for Novel Coronavirus (COVID 19): Interim guidance for Long term Care and Assisted Living Facilities
---
March 16th 2020 - Recommendations from LTC Medical Advisory Committee: COVID-19 #1
LTC communication bulletin COVID-19 #1
---
February 26th 2020 - Evaluation 2018/2019
The Victoria-South Island Long-term Care Initiative (LTCI) program undertakes a yearly evaluation on a three year cycle of community-level measures, care home-level measures, and provider-level measures. For the 2018/2019 evaluation, the team did a deep dive into care conference (CC) attendance. As one of the Best Practice Expectations (BPE's) we believe that CC's are both central and pivotal to successfully meeting the overall goals of the LTCI. Overall, 60% of all scheduled CC's during the audit period were attended by MRPs, a relative increase of 300% since year zero of the LTCI 2014/2015.
Individual reports relating to CC attendance have been delivered to all Long-term Care (LTC) Homes and LTC physicians. These reports aim to provide a snapshot in time and inform actions of the LTCI to address structural barriers of CC attendance.
Interested in learning more about our 2018/2019 Evaluation? Follow the link below to read our summary and aggregate reports.
2018/2019 LTCI Evaluation Summary Report