Our members are 71 physicians practicing at all 37 local LTC sites, caring for approximately 95% of the 3,441 residents in the Victoria-South Island region.
An Overview of Victoria-South Island LTCI
---
The Vic-SI LTCI launched in 2015, with an emphasis on improving medical care for all residents in care homes, through engaging and supporting physicians to meet the provincial LTCI Best Practice Expectations (BPEs), and facilitating collaborative system change with physicians, care home staff teams, and Island Health.
Testimonials Direct from LTC Physicians 
---
Hear why our local physicians love working in LTC, how it has impacted their practice, and what they would say to anyone interested in getting involved with the LTCI.
In the last 10 years, the number of community-based family physicians in BC has increased by about 10%. Over this same period, the number of family physicians delivering long-term care (LTC) services dropped by about 13%. It's also anticipated that there will be a 120% growth in the LTC population in the next 20 years.
In order to address the downward trend in the number of physicians providing services in LTC, demographic changes, and local practice barriers, the Victoria and South Island Divisions of Family Practice have identified improving the care of patients in LTC as a key strategic priority. The two Divisions are working together to achieve this goal, through a variety of programs and strategies, including a local implementation of the General Practice Services Committee (GPSC) provincial LTCI.
Who's Involved in Our Local LTCI?
The Vic-SI LTCI is a collaboration between the Victoria and South Island Divisions of Family Practice, as well as Island Health. Our team includes physicians, board members, and program staff committed to creating a culture of medical excellence, teamwork, and sustainability for residents in LTC.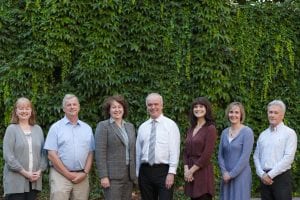 Vic-SI LTCI Steering Committee
Ian Bekker, Victoria Family Physician
David Brook, Victoria Family Physician
Sarah Chritchley, Victoria Family Physician & VDFP Board of Directors Member
Nikki Del Bel, Saanich Peninsula Family Physician
Ben How, Victoria Family Physician
Margaret Manville, LTCI Co-Chair; Medical Director, Long Term Care, Island Health
Katherine McKeen, Victoria Family Physician
Mike Miles, Vic-SI LTCI Co-Chair; Retired Victoria Family Physician
Peter Neweduk, Victoria Family Physician
Catriona Park, Executive Director, Victoria Division of Family Practice
Catherine Ryan, Victoria Nurse Practitioner
Robin Saunders, Retired Sooke Family Physician
Jessica Swinburnson, Vic-SI LTCI Program Manager
Sunita Maghera, Administrative Assistant
Fiona Sudbury, Program Consultant, Quality Improvement and Site Support
Gillian Swinburnson, Program Coordinator, Quality Improvement and Communications
Jessica Swinburnson, Vic-SI LTCI Program Manager
Cherie Wheeler, Program Coordinator, Quality Improvement and Communications